BLOGS
ERPNext Manufacturing Solution for Pharmaceutical Industry
Get ERPNext: Best ERP pharma software solution for your pharmaceutical industry, medical, and healthcare business management to make your manufacturing operations smooth, cost effective and productive today!
Introduction
The pharmaceutical industry has experienced rapid global growth, driven by rising demand for healthcare products, advancements in medical research, and an increasing population. Technological innovations like the development of pharmaceutical manufacturing software- ERPNext, consistent regulatory support, and evolving markets have further propelled this growth, leading to R&D of new drugs and therapies to bring an effective revolution in the healthcare sectors.
Pharmaceutical Industry contributed USD 405.52 billion in 2020 to the global pharmaceutical manufacturing market and is predicted to expand at a compound annual growth rate (CAGR) of 11.34% till 2028.
Challenges faced by Pharmaceutical Industries worldwide
In the dynamic world of pharmaceutical industries, various significant challenges had been plaguing medical businesses prior to adopting ERPNext manufacturing software. Many industries in the pharmaceutical domain face regulatory compliance as stringent regulations demand meticulous tracking of processes and documentation.
The Pharma companies struggle to keep pace with changing dynamics of the healthcare industry, traceability, and quality control requirements, increasing process complexities. The major challenges that have been an obstacle in the development of pharmaceutical industries are:
Regulatory compliance
Data management
Inventory management
Paper based systems
Manual processes
Risk of errors
Supply chain disruption
Personalized medicine
Cost management
Quality analysis
Drug safety
R&D costs
Regulatory compliances
Role of ERPNext in Pharmaceutical Industry growth
ERPNext is an all-in-one solution to manage and streamline business operations of production, manufacturing and distribution at one platform. Nowadays, ERPNext software has become the driving factor of rapid growth and development for many pharmaceutical industries worldwide. With the adoption of ERP software, pharmaceutical industries are now empowered to overcome different challenges: streamline operations, ensure compliance, and achieve remarkable growth in an increasingly competitive landscape.
Undoubtedly, ERPNext manufacturing software is the best solution for pharma manufacturers to effectively deal with supply chain disruption, cost challenges, quality assurance, regulatory updates, and planning and scheduling of production.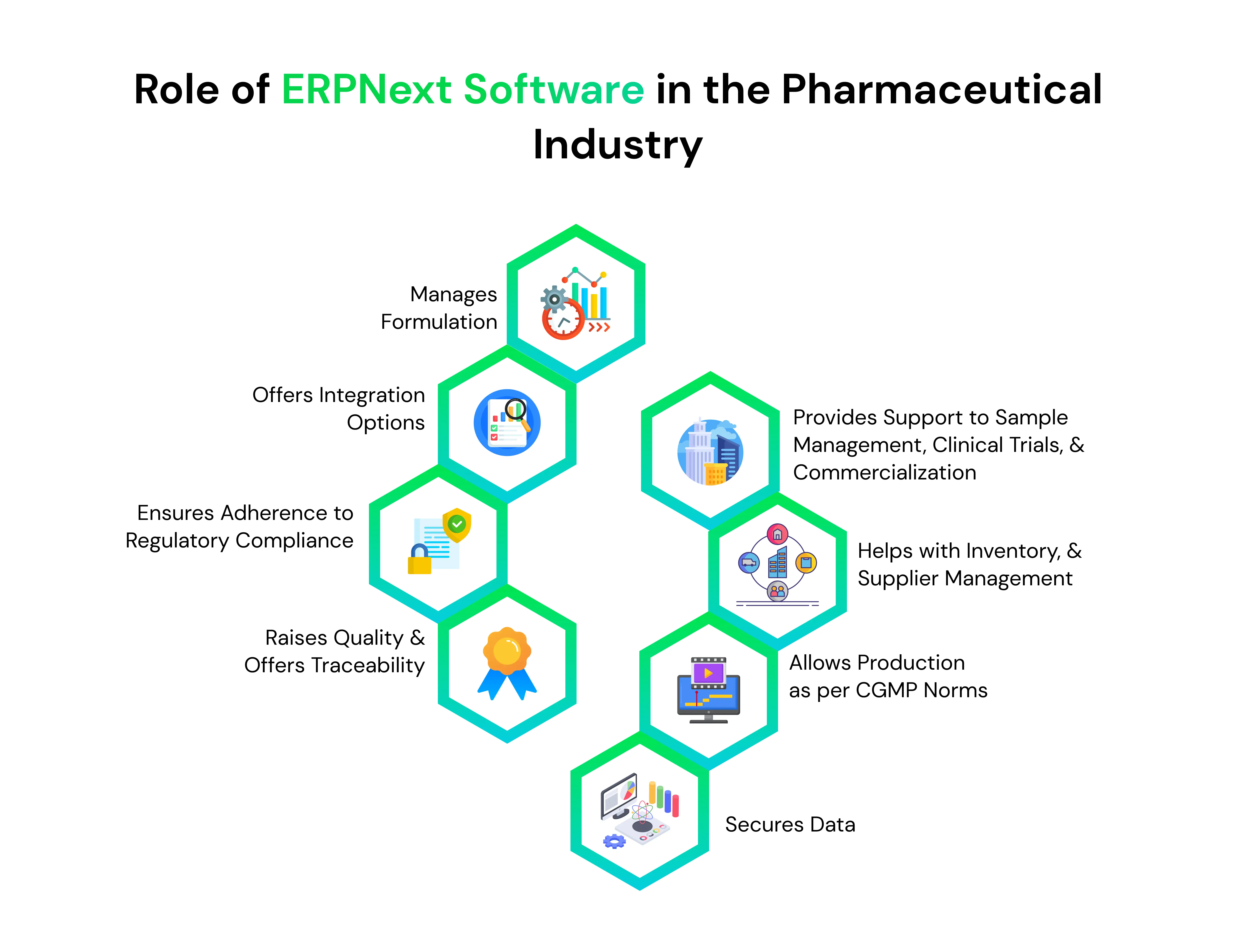 1. Formulation
Maintaining and managing all manufacturing instructions followed for drug formulation like storing, retrieving, and revising every formula is super easy with ERPNext software implementation.
2. Integration
The ERP software for pharmaceutical manufacturing automates manufacturers to control, connect and integrate all internal processes of the pharma manufacturing industry, leading to improved overall productivity by reducing system complexity, and saving time and resources.
3. Inventory & supply chain management
An ERPNext pharmaceutical manufacturing software is recognized as a robust Cloud ERP software that simplifies and automates many tasks such as financial management, inventory management, tracking the availability of raw materials, and planning product packaging.
4. Regulatory compliance
This Healthcare ERP software ensures adherence to local and global regulatory compliance requirements.
5. Quality control & traceability
In the pharmaceutical industry, ERP software ensures the quality of products through quality testing and enables quick product recalls through bi-directional traceability.
6. Data security
Opting ERPNext pharmaceutical solution, all business data will be secured with stringent data security protocols such as electronic signatures and passwords, audit trials, access controls, and data encryption.
7. Sample management, trials, & commercialization
Getting ERPNext manufacturing software implementation, you can easily maintain and record trial histories in a centralized database, and approval and launch of product.
8. CGMP regulations
With ERPNext software, the norms for drugs contain minimum requirements for methods, facilities, and controls in the manufacturing, processing, and packaging process.
Why is ERPNext the best ERP for Pharma Industries?
ERPNext stands out as the best ERP for pharma industries due to its comprehensive set of features tailored specifically to meet the unique needs of the pharmaceutical sectors worldwide.
Key features of ERP software for the pharmaceutical industry
Real-time tracking
Formula secrecy
Effective product costing
Systematic inventory management
Batch monitoring with inspection plan
Create raw material/product specifications
Material Requirement Planning (MRP)
Master Production Scheduling (MPS)
Quality assurance in compliance with CGMP norms

Key Benefits of ERPNext Systems for the Pharma Manufacturing Industry
The implementation of ERPNext manufacturing software in the pharmaceutical manufacturing industry brings forth numerous key benefits. ERP systems empower pharma manufacturers with the tools and insights necessary for sustained growth and development in a competitive market.
Check out the key benefits of ERPNext software: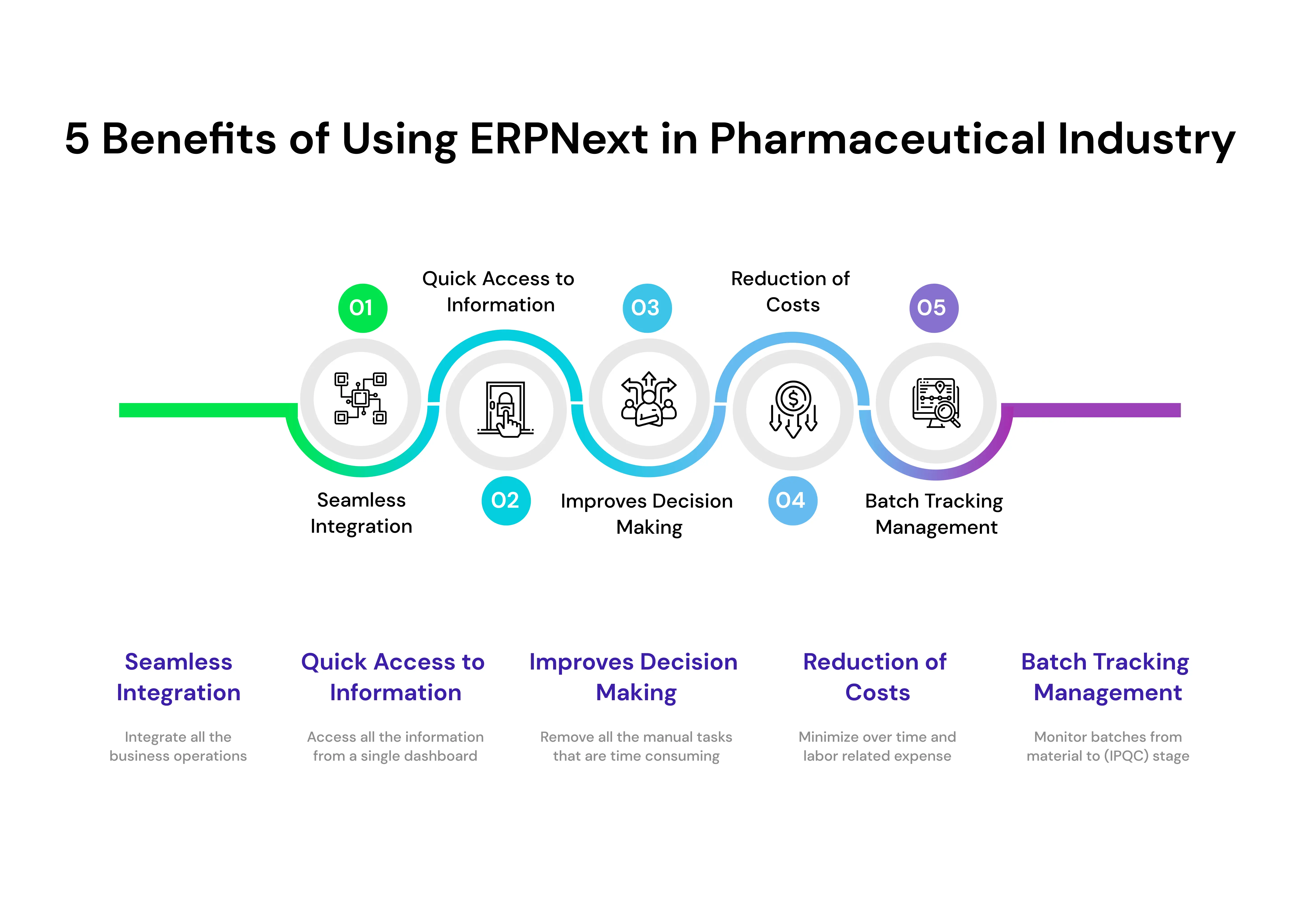 1. Seamless integration
The Healthcare ERP software integrates all internal manufacturing processes in one place which saves resources and time and increases productivity.
2. Quick access to information
ERPNext provides easy operational workflows and enhances productivity.
3. Improves decision-making
ERPNext implementation results in enhanced consistency, quality, and speed of delivering products to the market.
4. Data security
It is the most important aspect of pharmaceutical manufacturing industry that spends high resources in R&D initiatives; be it related to drug formulation, product substitution, or even customer order details. With Medical ERP software implementation, industries can secure their data effectively.
5. Batch tracking management
ERPNext is a cloud ERP software for pharma industry that enables real-time tracking and management of inventory from raw materials to finished product with batch wise/MRP wise billing information, expired/damaged stock management to make accurate sales or purchasing decisions.
How can NestorBird help the Pharmaceutical Industries with ERPNext manufacturing solutions?
NestorBird is one of the leading ERPNext solution providers in the world. We have an expert team of certified professionals who have worked with the world's most popular manufacturing industries to count on.
Reach out to our team of experts to get the best Pharma ERP software consultation for the digital transformation of your pharmaceutical manufacturing business today!

Contact NestorBird at sales@nestorbird.com or Call/SMS/Whatsapp at +91-9878990102 to book a free ERPNext manufacturing demo now!
Frequently Asked Questions (FAQ's)
ERPNext enables manufacturers to automate their key manufacturing processes for the proper utilization of resources and increase productivity.
An ERPNext pharmaceutical manufacturing software is designed to ease manual workflow of your company with automation.
It helps to manage various departments including financing/accounting, marketing, distribution, inventory management, and sales/purchase.
A pharmaceutical ERP software offers seamless integration and allows businesses to keep track of different operations like compliance, quality control, expiry, formulation and costing.
NestorBird is the leading ERPNext solution provider all over the world. We have a certified team of ERP developers, consultants, and management experts who develop customized ERP solutions to meet your business needs. We have experience of scaling up startups and small manufacturing businesses to achieve new heights with customized ERP solutions.